1 – Ilha de la Tartaruga | The first visit, but not the last
Before I dive into my experience on the island, I want to quickly share a few thoughts on Lisbon.
It was my first time in Portugal, and going to Lisbon was a nice experience but nothing compared to what we had just experienced on the island. I liked the architecture and the colorful palette of the city, but the atmosphere was suffocating at times. Too many tourists, too many drug dealers stopping us to ask us if we wanted to buy drugs, too many meat/seafood restaurants… once again, big cities are too much for me. I'm glad we walked all around the city for the day, it gave me time to appreciate little aspects of this unique place, but I will not miss it.
Now. On to my favorite moment of Portugal. The island.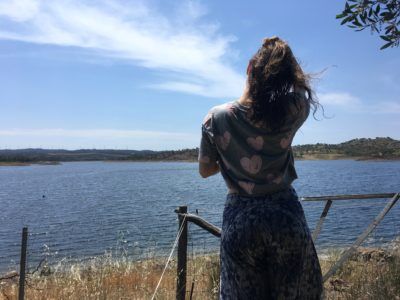 The bus ride from Lisbon to Mertola was actually beautiful! I loved seeing the countryside, it was very different from anything I had seen before. My favorite sight was the storks nests on top of every high polls in the countryside! I didn't take any pictures or videos because we were on a moving bus so I couldn't capture the beauty of it all, but just trust me: it was very special! There were hundreds of bird nests filled with beautiful baby storks!! It was between 7pm or 8pm, and it looked like one of the parent was coming home with food or coming home to settle for the night after being away on some mission. Seeing them fly into the nest with their huge wings was insane! It made my insides melt, I had goosebumps thinking about all those families raising their babies there before leaving for their next destination.
Speaking about destination, we arrived at dusk in Mertola where our lovely Portuguese taxi driver was waiting for us. He didn't speak any French or English, but we managed to understand that he was indeed taking us to the right place: Ilha de Tartaruga. After a speedy drive in the middle of nowhere, he dropped us off… in the middle of nowhere. It was by now almost full dark, the stars were out and we had one mission: to find Theo.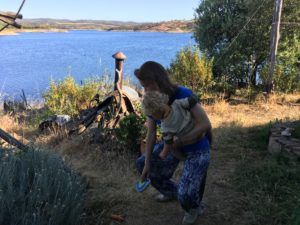 We started walking in the night toward the island, it was absolutely surreal. We had just left Paris and all the craziness that it involves to find ourselves a few hours later in the dark, in Nature, just the two of us, walking side by side.
After just a few minutes, we heard the now very familiar voice of Theo: we had made it!
He took us on his boat for a 33s boat ride to the island (all of this was happening in complete darkness, all I could see was Nils smiling, his eyes sparkling with happiness) followed by a brisk walk across the island to reach our beds. It is hard to explain with words if you have not been in this situation before, but at that moment, fresh out of his boat, we were following Theo in total darkness, he had no light to guide him and there is no real path on the island, but he was walking FAST as if it were full day and the road was completely straight and open. In reality, the path was wild, full of rocks and spiky high herbs. He obviously knows the island by heart and more. "He is home". I was trying to keep up with him without falling, and I was laughing inside. This is fun. We finally made it. This was the beginning of the fabulous week on the island. What a special feeling.
It was late, Tania and David (their son) were already sleeping, and after a quick tour of the outdoor toilet and our Little Tower caravan, we said goodnight to Theo.
Wow… when I woke up, I couldn't believe my eyes! Everything around me was absolutely beautiful!
From our bed at the top of the caravan, we could see everything through the little triangular window! Water, sky, and the land on the other side of the water, green leaves and birds.
Once I woke up enough to get up and go outside, I saw it all up close and: Yup, this place is cool!
Many things come to mind when thinking back about that moment. I remember most of all the look of my husband… he was watching me while I was observing the beauty of the island, and he was like a kid opening a new present… he was happy, I was happy… when his smile illuminates his face like this I just…
Anyway, back to the island. In a few words: I loved it instantly. It's unique, remote, charming, comfortable, magical… Theo and Tania really made it into something special. Meeting them was also a very important moment. Their son David is absolutely adorable, I was instantly in love with his little face! He is a little man with tanned skin, round sparkling eyes, blond dreads… the cutest!! During our stay, I tried to spend as much time with him as possible, I just loved being around him!
We had an amazing breakfast with fresh strawberries from the garden and a nice strong coffee. We all started talking right away, it all instantly felt very natural. Nils was so happy to see them again, and I was so happy to meet them for the first time.
— Side note: Tania was still breastfeeding David, and I loved seeing their special bond and how natural it was. It made me want to breastfeed all my babies even more, and it made me so grateful for seeing up close the grace surrounding motherhood. —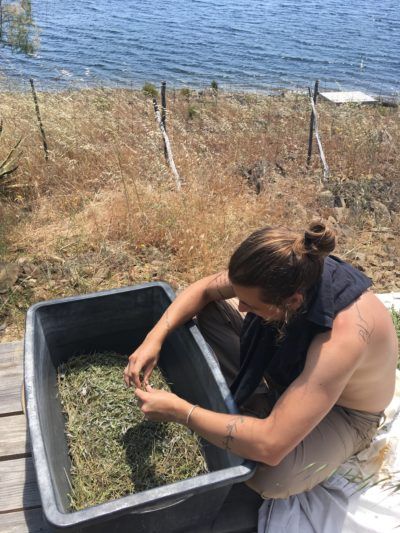 During this first breakfast together, we all agreed that Nils and I were willing to help them with anything they needed. I was all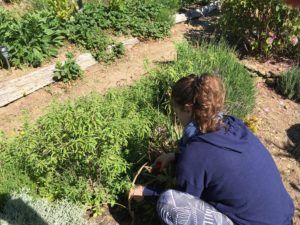 for babysitting David, and we were really excited to work in the garden. So we did. For four days, we worked on harvesting various herbs that were growing in the garden (thyme, lavender, rosemary, oregano, sage, mugwort). It was the best job ever! It smelled so good! And there were so much to cut! It was very sunny and hot during the day, so we worked only 1-2hrs in the morning and then a bit more in the evening. We harvested them and we dried them outside. After 48hrs, they were ready to be crushed. We had to manually remove all the twigs to be left only with the leaves. It was such a longer process than expected! And to be honest it was a bit painful at times for my hands… my baby hands were not used to the spiky dry herbs, but I managed perfectly well. It was fun! It took us about 6-7hrs to finish removing all the stems. Once we had only the leaves left in the huge plastic container, Theo did the final step: to grind them with salt to make the most delicious herb salt. With what we had done, he probably made a few kilos of this! It smells so good! (And he gave us some of the previous batch he had made, which we tried at home when we got back and it was delicious!!!! We love to use it on our sunny side up eggs.)
Everything went by so fast. Lunch was incredible. Dinner too. Theo is insane in the kitchen! Everything was just great, including our conversations with Theo and Tania. We got up with the sun, and we went to bed with it too. I love to follow the rhythm of the sun, that's when I feel the most rested. Otherwise……. I'm tired!
We were not the only visitors on the island. On our second day, a German couple, 25-27 yrs old, arrived for two nights. We didn't know what to expect but it went really well. We all got along and it was nice to have a full table with many discussions. They didn't stay long but they seem to really enjoy their experience on the island! After their departure, Nils and I spent the day in Mertola while Tania was in town to take David to the doctor. We walked around this beautiful little village, and I loved going up to the castle! I really enjoyed this sunny day, and before we knew it, it was time to get back to Tania to have a late lunch with them in the shade in a little creek just outside of town. She had made food in her van, it was simple and delicious.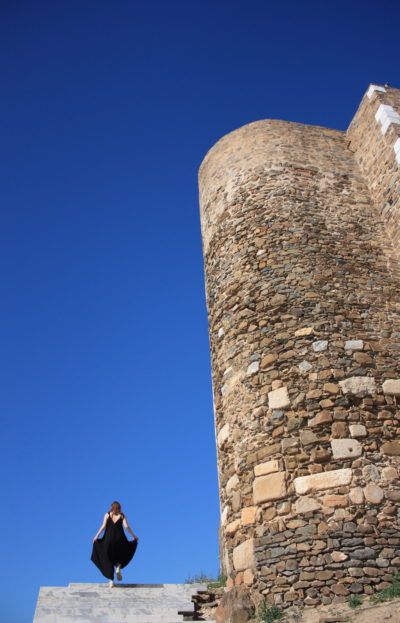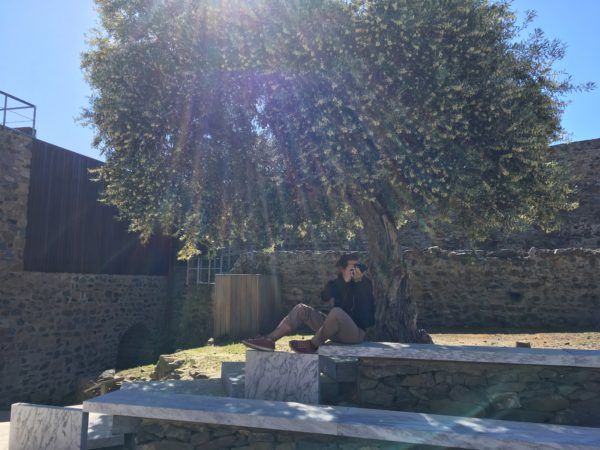 And then… we had a Dutch couple on the island with us! They seem to follow us everywhere we go… and to make it even better, Sophie had just learned that she was pregnant! So instantly, I was in heaven. A pregnant woman and a breastfeeding mom with her beautiful baby boy running around the island at the same time, I was happy!
They were our age and we really got along well. They stayed for three nights, and we had time to talk about a lot of different topics including motherhood and families and living in the Netherlands.
It was perfect for us to meet other Dutch people! They had good tips for us for next year, so hopefully one day we can see them again in Amsterdam or Haarlem.
We all went on an expedition an hour away from the island, and it was fantastic. Little David was with us, carried by Tania, and he loved it. We walked on huge rocks down on the gorge, with our huge picnic casserole that we each carried a little at a time. It was pretty epic actually. Most people would have not gone there, especially with a 5kg pressure cooker full of food and a one year old child. But with Theo and Tania it's always a different way of life, so we spent an hour balancing on rocks to reach a hidden cave closer to the river.
Thanks to Theo's skills and advice, we all succeeded to rock climb down, and with my short legs I had to use my ballet skills! Good thing I'm flexible! Same for Sophie, the Dutch girl. We were 6+1 happy monkeys eating lunch in a cave. It was perfect. I loved loved loved our conversation that day. We talked about having kids, raising kids, pregnancy, delivery, fears surrounding kids, what type of parents we want to be etc… it was so nice to have all the perspectives of the women and the men. It went by so fast! It was already time to head back up the rocks and to the island.
We made it back just in time before the rain.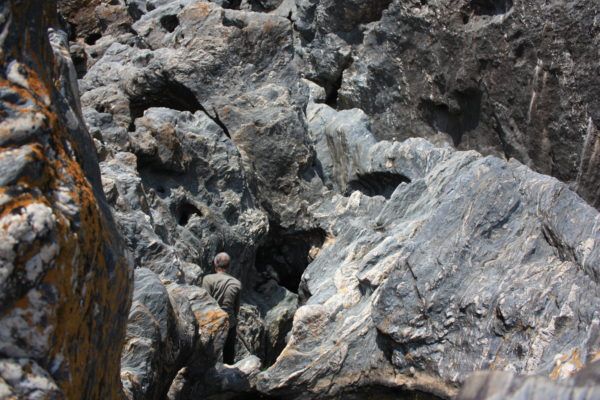 A few things I want to highlight:
-The toilets outside. It's a hole in the ground with a wooden seat made by Theo, and it's fully out in the open. It's a great feeling to pee/poop in the fresh air and with such a nice view!
-The lake is our shower. The water was a bit cold but after a little courage I did everything I needed to do, shampoos and body washes were good!
-Peeing outside in a bush, next to Nils who is peeing as well, at night while watching the stars: epic. Best pee ever.
-The food, the foooood. They do not have a fridge on this island so everything has to be eaten when it's harvested. And it's absolutely fantastic. Every meal was delicious. They use everything, including edible flowers, and all the grains that don't grow on the island are bought in bulk in Lisbon a few times a year.
Before we knew it, it was time to leave the island. We woke up really early on the last day to catch our bus.
Nils put David in the wheelbarrow along with our backpacks, and we walked the island one last time to the van. Theo, Tania and David took us to the bus station, and oh yeah, we were a bit late so he drove like a real racer with his huge van on the rocky dirt road. It was quite an experience! He was fully committed to be on time, and he was even more German than normal, it was so funny! There are no seats in the back of the van, it's a bed, and we were literally jumping and flying all over the place trying to hang on for our lives. Luckily, we made it with a few minutes to spare, and we said goodbye.
I didn't want to leave… I felt so good on this little peace of paradise with the love of my life… I am truly grateful for this experience. I hope that we can go back soon, this place now holds a very special place in my heart.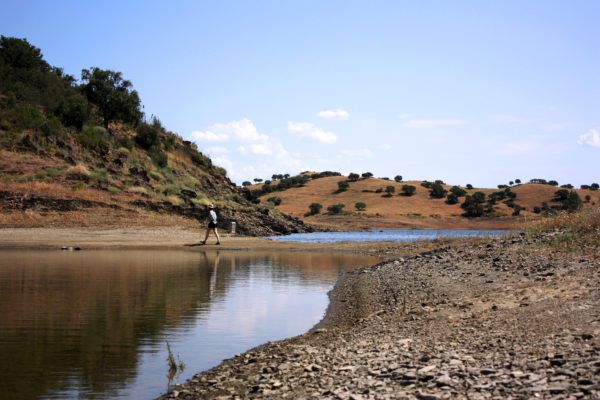 I had thought a lot about this island ever since Nils had told me about it, and it surpassed my expectations!

PS: I was supposed to get my period on the island, but I didn't. Maybe it was all the energy of fertility present on the island, but Nils and I thought for a few moments that I might be pregnant… it was almost a joke on the island because Theo and Tania also knew that I was waiting to start bleeding and everyday I would say "No, not yet, but it's coming I know it" and they would laugh and say happily that we were pregnant and that I would give birth in New Zealand… We are planning on starting a family soon, that's for sure, but for us that was a bit too soon, I definitely did not see myself traveling all over the world while expecting our first child. Go read the Spain article to find out the rest hihi.