2 – Alcoy | Not quite a walk in the park
The second part of our adventure was definitely different. After the peace and joy of Portugal came the uncomfortable atmosphere of Spain…
Flying over Alicante was a surprising sight of desertic lands, mountains, buildings and sea. I had not realized that it was so dry in this region.
We landed safely after having surfed on the wind for a few minutes and met up with our Blabla car driver on a romantic location: the parking lot between Decathlon and McDonalds.
With speed, we left the seaside for the mountains, and in a short hour we found ourselves in Alcoy.
I was by then happy to arrive and to settle down a bit… I was tired.
— Also, I was bleeding! Yes, you guessed it: not pregnant! As soon as we left Portugal, BOOM, HELLO! I was after all not going to give birth in New Zealand! —

The shift between the warm open space of the island and the chilly confined atmosphere of this city was quite a shock and a harder transition than expected. I felt drained and out of place. However, I enjoyed the quiet evening we had with Julie, Nils' cousin.
Eat.
Sleep.
Wake up.
I'm tired. But let's carry on with the day anyway!
Nils and I took a morning stroll through the town to go to the local organic store to get some breakfast and snacks. We saw what Alcoy was about, an old city surrounded by mountains and bridges.
The views were nice, but again… the South of Europe doesn't move me as much as other places in the world do.
Julie and Rafael took us on a little tour in the surrounding areas, and we went to his family house. The sight of the particularly dry and poor in nutrients soil was new to me. Beautiful olive trees were everywhere in this region, as well as cherry and other fruit trees, but the ground moves each time there are heavy downpours, so it is an unpredictable landscape, and I felt it in the air too. Unpredictable and unstable.
I will say though, we saw beautiful raw places next to Alcoy.
Julie and Rafael took us to wild streams, little lakes with clear water and small fish, and unknown paths in the mountains. They also took us on a special/unexpected/uncomfortable adventure involving Russian mafia/magouilleurs/"businessmen" and that was… not my type of perfect afternoon, but it was part of the unknown that comes with traveling!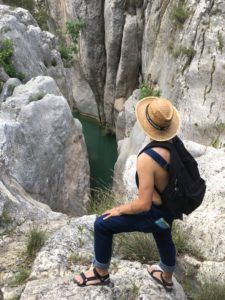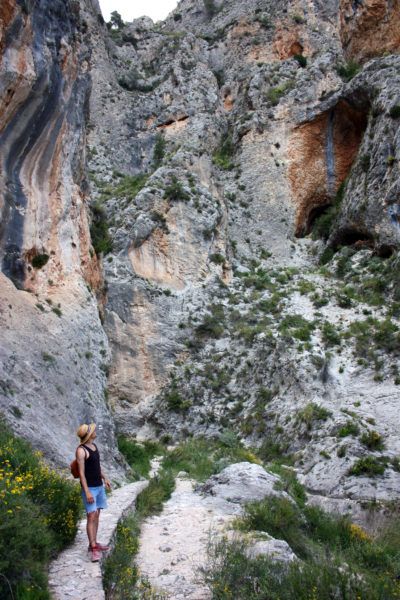 And Nils took me on a little adventure after I had told him that I wanted to go on a LITTLE walk…
We wanted time alone, so he took me to the top of one of the mountains surrounding Alcoy.
Well…
I enjoyed it, but then I also didn't.
It was a hot and sunny day, and I was happy to be outside. It was also noon when we left, so maybe not the smartest idea, but that's how it happened.
We started climbing, and climbing, and climbing.
Shady areas under some trees were very welcomed, and little dance breaks on top of big rocks felt great too.
After about almost two hours of ascension, we arrived at a church high up overlooking the city, it was beautiful to see the city from there.
I thought this was it, but no.
« Oh just over there, right next to where we are now, we can walk a little more to go down by this other path »
Ok right…
Oh my love, the adventurer, the unstoppable, the explorer, the athlete…
So there we went up the other side of the other mountain, the cliffs were sharp, the wind was blowing, the clouds were moving fast, the birds were hunting, and we were climbing. Or running along side the cliffs for Nils.
It was by then almost 3pm, and I was ready to go back down. We found the path that went down to the little trail that went back to the city. But we missed a turn to reach the trail. So we spent 45min going down yes, but we were fighting our way through thorny bushes. That was not the calm afternoon I had in mind, but we had to keep going to find our way back down anyway.
I am glad to say that we survived this adventure, and there is no shame in admitting the little tears of relief/anger/tiredness I released once we found the trail. One more hour before reaching the safety of the apartment. My smile came back a few minutes after my tears had dried, thanks to the unconditional support of my favorite adventurer, and we got home a little after 6pm.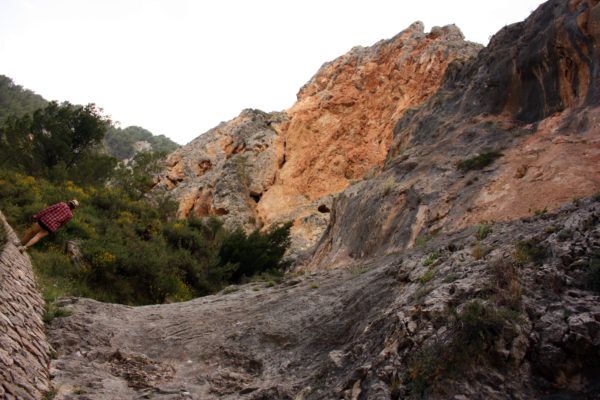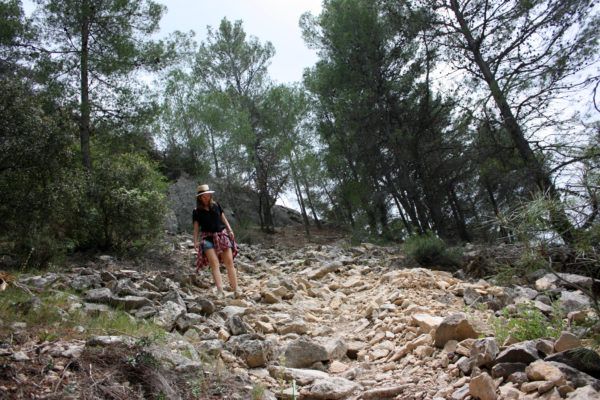 To celebrate our accomplishment we had very good pizzas for dinner, and we went to bed very satisfied.
One more thing to note. I want to remember the little cafe/bakery we found right around the corner from Rafael & Julie's apartment. It was very simple, quiet, charming and they served really good food and drinks. The owner was kind and dynamic, we liked his minimalistic approach. We went there three times in six days and never regretted it!
I could say more, I could say less… but I'll leave it here for this little Spanish trip.
With love,
Lea